Home
COMMUNITY SERVICE INFORMATION
SUMMER IS A GREAT TIME TO COMPLETE YOUR COMMUNITY SERVICE HOURS FOR THE 2017-2018 SCHOOL YEAR!
2016-2017 Community Service Log were due May 1st
Students with an incomplete community service grade
for 2016-2017 or earlier years
are ineligible to participate in any extracurricular school activities until community service hours are served and incomplete grade is cleared. SEE COMMUNITY SERVICE POLICY ON BOTTOM OF THIS PAGE
Forms are available in the Library, community service board outside the Library or can be downloaded from file on the bottom of this page. During the summer, you can scan and email your completed forms to liz.musal@pcsed.org to clear your incomplete grade in community service.
Middle School (7th and 8th) students must complete at least 10 hours per year.
High School (9th - 12th) students must complete at least 20 hours per year (10 hours must be served with an off campus organization).
Service must be for a non-profit organization or charitable event. Please see Ms. Musal in the library if you are unsure that the organization is approved for service.
UPCOMING COMMUNITY SERVICE OPPORTUNITIES
INTERNSHIP OPPORTUNITY
CHILDREN'S MUSEUM OF DISCOVERY
IN SANTA CRUZ
Here is a summary of our intern position, which includes opportunities for those interested in working with children and families, leading programs, and helping on our exhibit floor:
The Santa Cruz Children's Museum of Discovery is an interactive, hands-on children's museum in Santa Cruz County, with a goal of providing fun & enriching discovery-filled activities to children and families in our County. The Museum is geared towards children ages 0-7 and provides daily STEAM-based programs, and hosts weekly field trips and birthday parties on the weekends. In addition, the Museum of Discovery goes out into the community to schools and events to provide STEAM-based, hands-on, child-led programs. The Museum of Discovery provides opportunities for all families to enjoy our offerings, specifically providing scholarships to families, childcare centers, and schools that demonstrate need.
The Santa Cruz Children's Museum of Discovery is currently seeking enthusiastic applicants for exciting internship opportunities. The ideal applicant will be reliable, flexible, have excellent rapport with children, must be able to work independently, work well individually and as part of a team, have an interest in early childhood education and/or arts & science education, and be hard-working and interested in joining a dedicated team in a fun & rewarding environment. Experience working with young children is a plus. Spanish speaking/translating ability desired, but not required.
Intern responsibilities may include: planning and conducting of Museum art, science, and enrichment programs; interacting with children and families on the Museum floor; maintaining the safety of the Museum floor, including maintenance of Museum exhibits; and supporting community, school and outreach activities.
Email us about your interests, include your résumé and/or school/work experience, and send to rachelhiggins@sccmod.org.
ONGOING OPPORTUNTIES
ENVIRONTEERS - Our mission is to provide easy access to the many rewarding environmental volunteer opportunities in our community and to promote the diverse and dedicated environmental organizations serving Santa Cruz County. To make environmental volunteering easy we created the Environteers.org website. Visit environteers.org to find a volunteer opportunity in climate, eduction, energy, farm and garden, forests, oceans, parks, recycling, transportation, water and wildlife. The site promotes all of the 78 local environmental organizations and institutions in Santa Cruz County with a link to their respective websites. Furthermore the site covers upcoming environmental volunteer opportunities and events as well as local environmental news and interviews.
Our mission is to provide one portal for easy access to all of our local environmental organizations and their volunteer opportunities and events.
We would love to publicize any environmental projects that your students are involved in. Two of our team are Santa Cruz county teachers (Terry Grove, COE and Suzy Stevens, PVSD) who conduct & post interviews with student volunteers in the News section of the website.
Please make use of and spread the word about our free resource!
YOUTH SERVE
Do you want to make a difference in our community? YouthServe is dedicated to connecting youth, ages 11-17, with rewarding volunteer projects across the Santa Cruz County. Our aim is to connect local youth who have a passion to help those in need with meaningful opportunities to do so. https:scvolunteercenter.org
Digital Nest in Watsonville
Volunteer opportunities working in activities division, events unit and Media Creation. See Ms. Musal for folder outlining volunteer opportunities or go to http://digitalnest.org/join-now/
Monterey Bay Aquarium - Teen Programs
High School and middle school students from the Central Coast area can explore the Monterey Bay - from both above and below the water - through our award-winning Teen Programs. See community service board for details or email Teen Programs at teenprograms@mbayaq.org
WANT TO BE A CABIN LEADER AT SCIENCE CAMP? Come volunteer with Santa Cruz Outdoor School! Earn community service hours and gain valuable leadership skills while taking care of elementary students. Contact Elizabeth Lewis at (831)291-3997 or cabinleaderinfo@santacruzcoe.org for more information. Hope to see you there!
YMCA CAMP CAMPBELL - Interested in being a camp counselor at science camp in Boulder Creek? Volunteers need to be 16 years old, a sophomore in high school and in good academic standing. See Ms. Musal in the Library for more information.
Looking for volunteers to help with Saturday food distribution and preparing for market. Provides families with members battling cancer free organic produce. Ongoing volunteer opportunities.
Contact information: produceforhealth@gmail.com or call (831)475-3327 produceforhealth.org
Camp Kesem
- Are you interested in coordinating a donation drive for Camp Kesem at UCSC? Camp Kesem is an organization for children affected by a parent's cancer. They are in need of art supplies and are looking for students to make posters welcoming the students to camp too. If you are interested in helping with this, please email
ucsc.volunteer@campkesem.org
.
Volunteer Opportunity at Santa Cruz Children's Museum of Discovery!
Do you have an interest in…
Working with Children?
Early Childhood Development?
PR, Marketing, Outreach?
Exhibit Design?
Then spending some time volunteering at the Santa Cruz Museum of Discovery is the right fit for you! We are a new local non-profit organization geared toward the
advancement of children 0 to 12 years old. We offer themed exhibits and classes that teach children about STEM, agriculture, marine environments, and more! We would love to have you on the team to expand ideas and coordinate with YOU!
We are flexible and are willing to work around your schedule! Come spend some time with us today learn valuable employment-like experience and gain new skills to put on a resume or college applications! Click here for a link to the application.
Ride A Wave
Ride a Wave's mission is to give children with special needs the chance to feel the thrill of riding a wave and experience a safe, fun-filled day at the beach, whether they are physically, developmentally or economically challenged.
Santa Cruz County Animal Shelter: Youth volunteers needed!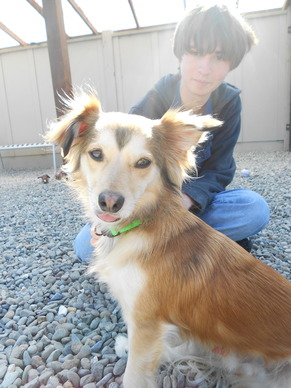 Do you enjoy working with animals? We are looking for committed, youth volunteers (at least 13 years old) who have a passion for animals to volunteer at the Santa Cruz County Animal Shelter.
Get hands on experience and learn to care for animals while getting community service hours! There is currently no wait list! Orientation and trainings are required.
If you're interested, contact me for more information
Reading Buddies Project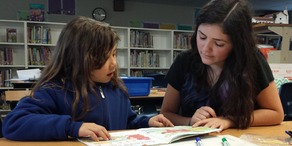 Reading tutors are paired with children in grades K- 2nd to help improve their reading skills and develop their love of reading. Each tutor will serve as a role model and have a positive influence on the lives of these early learners! The Reading Buddies Project is now recruiting volunteer tutors for Alianza Charter School in Watsonville.
Save Our Shores:
For a list of upcoming events click here:
http://saveourshores.org/calendar/list/
Surfrider Beach Clean Ups
For more information- see http://santacruz.surfrider.org/get-involved/volunteer/
Second Harvest Food Bank Santa Cruz County
Food sorting, M-F, 8-1 for 15yrs of age and older, and on some Saturdays, 8-12, for 8 years and older (those below 15 need to be accompanied by an adult). If interested, please contact Rosario Valerio, Volunteer Services Coordinator, 722-7110 x205 / rosario@thefoodbank.org
Additionally there are food distributions throughout Santa Cruz County through our Passion For Produce program. They consist of setting up the produce, farmers market style, nutrition education class, food distribution, and clean up. These are throughout the week and throughout Santa Cruz County, from Felton to Watsonville. The time of the distribution/class also varies from mornings to evenings—none on weekends. If interested, contact Crystal Cerda at 722-7110 x218 / crystal@thefoodbank.org
Homeless Garden Project
Homeless Garden Project needs volunteers on Saturday and Sunday (10am-4pm)
Minors and a parent/guardian must sign a waiver, see below. Minors also must be accompanied by a chaperon the first time they visit the farm (although this does not have to be same person who signed the waiver).
The farm is located on Shaffer Road at Delaware Ave. on the west side of Santa Cruz near Natural Bridges State Park and the Long Marine Lab. The 3 and 20 bus lines stop nearby. CLICK HERE for a map.
On Thursday and Friday, we are able to provide a hot lunch to volunteers. Rain cancels farm days.
Students need to wear closed-toe shoes (required), as well as clothes they don't mind getting dirty, sun protection (hat + sunscreen), and layers, as the weather can often change quite a bit throughout the day.
Senior Tech Days
RSVP to Desiree at ys@scvolunteercenter.org or 831-4275066.
Teen Peer Court
For more information contact Celeste Gutierrez at cgutierrez@santacruz.k12.ca.us.
PCS On Campus Opportunities
Help clean our campus during lunch for community service hours. Please see Liz Musal in the library to sign up. 7th/8th students may complete all their hours on campus, high school students can do half. Campus work days on Saturdays count too!
Habitat ReStore is a program of Habitat for Humanity and its primary mission is to provide additional funding to support our home building goals, provide quality materials at affordable prices, and to foster good stewardship of sustainable and reusable resources within the community of Santa Cruz.The Restore is open Wed 10am - 2pm, Thur, Fri and Sat from 9am to 5pm. We normally ask volunteers to work a shift i.e. 4 hrs, but we can make exceptions to accommodate student schedules. To volunteer or for more information email John Scally at volunteer@habitatsc.org.
Seymour Center at Long Marine Lab
Volunteer as a docent, gardener, aquarist, school programs instructor or apprentice guide. School Programs Instructor Training begins September 22. For information, visit www.seymourcenter.ucsc.edu or call 459-3854.
Santa Cruz Museum of Natural History
Positions available at the museum include tidepool collectors, gardeners, and docents
For museum tours and outdoor education programs.For information, visit
www.santacruzmuseums.org
or call 420-6115 (Kristen Van Kley is education manager).
Santa Cruz State Parks
Volunteer as a campground host, trailworker, student intern, or docent at one of Santa Cruz's beautiful state parks including Big Basin, Henry Cowell, Natural Bridges, Santa Cruz Mission, Wilder Ranch, and more. Visit www.santacruzstateparks.org or call the park you are interested in directly.
UCSC Arboretum
Opportunities are available for interested volunteers in the many areas including events, education tours, propagation and nursery, and more. Visit www.arboretum.ucsc.edu or call 427-2998.
Coastal Watershed Council
Volunteers and interns are needed for various water-quality monitoring programs. Visit www.coastal-watershed.org or call 464-9200.
Native Plant Society
Volunteer as a part of the habitat restoration team or the plant propagation group. Other opportunities are also available. Visit www.cruzcnps.org.
Red Cross
Opportunities:
For more information email tyler.wilson@redcross.org or call
(831) 600-490
Grey Bears
Contact Tess Wood, Volunteer and Event Coordinator,
(831)479-1055 ext 226 or tess@greybears.org
Finding Good Opportunities for Service:
Here are a few of our favorites, linked for your convenience:
Community Service opportunities for groups of students require approval prior to posting or announcing. Once the activity has been approved, the community service opportunity can be promoted among the student body/groups of students.
Questions? Need more information?
Please feel free to contact:
Liz Musal at liz.musal@pcsed.org.